[Photo: My grandmother and my father in Wuchang, China, in 1951. Wuchang is now part of Wuhan.]
I was born in Guangzhou, China (formerly known as Canton), but the Chinese part of my family is actually from Wuhan. I came to America with my family in 1978, when I was about three and a half years old, and grew up in Colorado. Like all Asian Americans, I was often asked, "Where are you from?" Sometimes I'd say, "I'm from Colorado." But sometimes I gave a more convoluted answer: "I was born in Guangzhou, but my family isn't Cantonese; they're from Wuhan."
If the person I was talking to was Chinese, they might understand. It's a little like saying, "I was born in Atlanta, but my family's not Southern; we're from Chicago."
But non-Chinese Americans rarely understood this. I could have given them a simpler answer, but I wanted to complicate China for them. I wanted them to be a little confused, to recognize that they didn't understand everything about China, a place that they often identified solely with exotic stereotypes.
Now, of course, if I tell people that my family is from Wuhan, they'll probably know, at the very least, that it's a place in China. That has been one of the most ironic aspects of the coronavirus pandemic for me. It has given my family's hometown an identity in America.
*
When I was growing up, my mother cooked Chinese food almost exclusively. She roasted a turkey at Thanksgiving, and once in a while she made American food, but even when she made American food, she usually gave it a Chinese twist.
For Memorial Day or the Fourth of July, she often made barbecue pork chops and cold noodles. The pork chops were marinated in soy sauce, scallions, garlic, and maybe ginger. I'm not entirely sure what the marinade was, and I know that if I ask her, she won't give me the same answer more than once. Her recipes always fluctuate according to what's in the pantry, and what she feels like doing. And yet somehow, they still result in a relatively consistent dish.
The marinated pork chops would be grilled by my dad on the barbecue. When I was little, he used charcoal briquettes (I still remember the heavy bags filled with those sooty black cubes), but later on he got a gas grill. These pork chops would always come off perfectly tenderized, salty and savory and slightly sweet. My mother must have put some sugar in the marinade. As an adult, when I think about these flavors, they remind me a little of Vietnamese barbecue pork—the kind you get at a Vietnamese restaurant on a bed of cold rice noodles.
My mother made noodles to go with the pork chops, too. They were called 凉面 (liang mian), which simply means "cold noodles."
The noodles were dried, like spaghetti, but they were white, not yellow, and they came out of a white rectangular box from the Chinese grocery store. (The closest one, when I was a kid, was in Denver, about forty-five minutes from our house, and I think it was owned by Vietnamese immigrants.) The noodles would be boiled and then rinsed with cold water until they were cool. They'd be dressed in a sauce made of creamy peanut butter, soy sauce, and possibly vinegar. They'd be topped off with some chopped scallions and peanuts, and we'd eat them along with the pork chop, so that the pork juices would slide into the noodles, savory and rich.
I've thought about those noodles my entire life, and I've attempted to recreate them from memory several times, but I never found a recipe that felt right until last year—2019—when I came across this article on Taste: "Choosy Noodles Choose Jif" by Luke Tsai.
Tsai's recipe is a bit heavier on the peanut butter sauce than my mom's recipe, and she never added chopped cold cuts to her noodles, but otherwise, this one is spot on. These are the cold noodles I've been looking for.
*
A few years ago, when I was visiting my parents, my mother made a batch of noodles were not the cold noodles of my childhood. She called these noodles 热干面 (re gan mian), or "hot dry noodles." These noodles, she told me, were renowned in China as Wuhan's most famous noodle dish.
The "hot" in hot dry noodles refers to temperature; the noodles are served hot, or at least, warm. The "dry" part refers to the fact that the noodles are not drowning in sauce. The sauce merely coats the noodles in a very thin layer. That sauce is made of—at minimum—sesame paste, sesame oil, a dash of sugar, soy sauce, and hot water to bring it together. Additional flavors can be added to taste, including chili oil and vinegar. When my mother introduced me to this dish, she added oyster sauce, which I've since learned is not traditional, but can be done.
I wondered why my mother had never made these noodles before, and later on, when I asked her, she told me that even though she grew up in Wuhan, and even though she and her whole family speak the distinctive Wuhan dialect of Chinese, she only spent the first eighteen or so years of her life there.
She didn't know Wuhan as an adult until she went back to visit after becoming an American citizen. During her childhood, Wuhan—and all of China—went through some devastating famines. There wasn't a lively street food culture with plentiful noodle stalls, like today. And hot dry noodles are street food. You buy them from noodle carts at breakfast time, where you select from a vast assortment of toppings, including minced chili radishes (辣萝卜) and pickled mustard root (榨菜).
When the coronavirus outbreak caused the Chinese government to put Wuhan under quarantine, people all over China began to make hot dry noodles to show their solidarity with Wuhan residents. They posted pictures and videos of their hot dry noodles online. I began to watch them, feeling a peculiar sense of longing for a home that I had never known.
Anytime someone spoke the Wuhan dialect on video, something inside me shivered in recognition. The Wuhan dialect is in danger of dying out now that everyone in China learns Mandarin in school, but I can speak some of it, probably because it's the first language I learned. I studied Mandarin Chinese for years in college and graduate school, but Mandarin doesn't make me feel the way the Wuhan dialect does: as if the words are right.
---
Recipe: Hot Dry Noodles
Last week, after watching those YouTube videos (in this one the chef makes absolutely everything, even the noodle press) and comparing them with my mom's recipe, I made my own version of hot dry noodles. Wuhan is slowly opening its doors now, but making these noodles in my own quarantine made me feel connected to the people of that city—and to my family, who are now thousands of miles away from me in Colorado and California and, yes, Wuhan.
Here's my recipe, along with suggestions for substitutions in case you don't have these items in your pantry.
INGREDIENTS
[Photo: The ingredients I used. Clockwise from top left: Sesame oil, black vinegar, soy sauce, sesame sauce, dark soy sauce, Lao Gan Ma chili sauce, white pepper powder, five spice powder, scallions, spicy pickled radish, garlic, fresh Chinese noodles, chopped peanuts.]
Noodles and Sauce
1 pound noodles (I used fresh Chinese noodles, which I'd bought in February and frozen, but you can also substitute Japanese ramen noodles, spaghetti, or linguini.)
2 Tbs. sesame oil

2 Tbs. sesame paste (I used Chinese sesame paste, 芝麻酱, aka "sesame sauce," but you can substitute tahini.)

2-3 Tbs. hot water

1 tsp. sugar

dash of salt

1 Tbs. regular soy sauce

1 Tbs. dark soy sauce (If you don't have dark soy sauce, just add another tablespoon of regular soy sauce.)

1 tsp. sesame oil
Toppings (All optional and to taste)
chopped scallions

chopped peanuts

2 garlic cloves, finely minced

2 Tbs. warm water

minced pickled mustard root - 榨菜 (I used a brand called 老板菜, but it also comes in cans that say "Szechuan Vegetable")

minced chili radish - 辣蘿蔔 (I didn't have any so I didn't use it)

1 tsp. black vinegar (You can substitute balsamic or rice wine vinegar)

dash of five-spice powder

dash of Chinese white pepper powder

chili sauce to taste (I used Lao Gan Ma but Sambal Oelek chili garlic sauce or sriracha would both be great)
INSTRUCTIONS
To make the garlic water (optional!), combine the minced garlic and 2 Tbs. warm water. Allow to sit for at least 15 minutes.
Cook the noodles in boiling water until they are al dente. Drain them thoroughly and place on a large platter or on a cutting board. Drizzle 2 Tbs. sesame oil over the noodles and toss together thoroughly; this prevents the noodles from sticking too much and makes them chewier.
Make the sesame sauce by combining the sesame paste with hot water, 1 Tbs. at a time. At first it will paradoxically thicken, but just keep going slowly. When it's smooth, mix in the sugar, salt, soy sauces, and sesame oil until thoroughly combined. The sauce should thinly coat the back of a spoon but not be clumpy or too thick.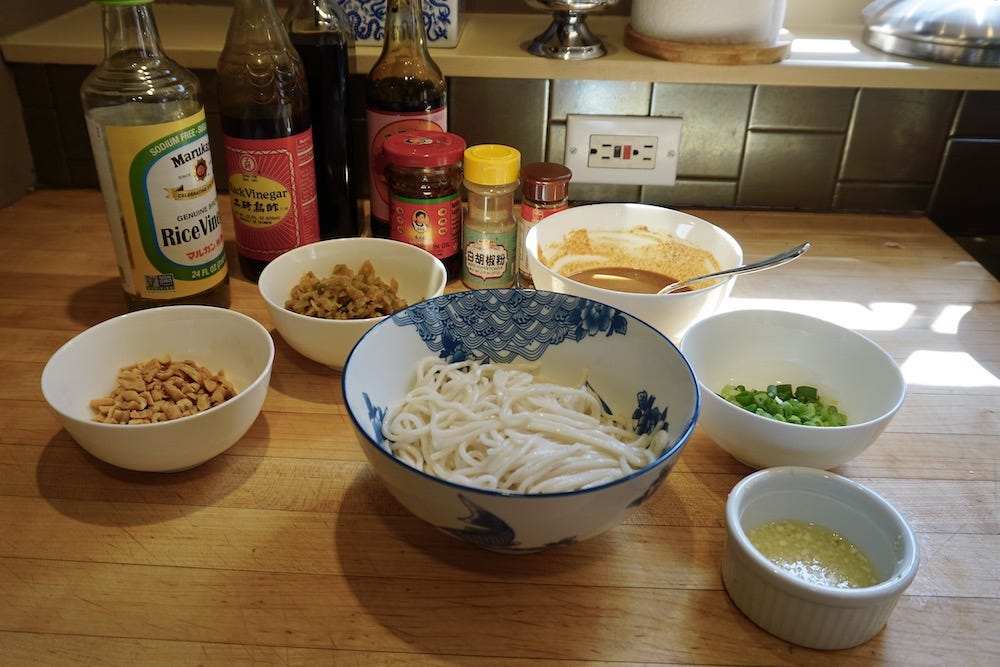 [Photo: Preparing to assemble the noodles]
To assemble the noodles: If the noodles have cooled off too much, you can briefly reheat them by plunging them back into boiling water for about 15-20 seconds. Place one serving of noodles in a bowl and drizzle on approximately 2 spoonfuls of sesame sauce. Add the toppings you desire, and mix together thoroughly.
[Photo: Hot dry noodles! Yum!]
---
My Writing Diary
Welp, this past week I couldn't get much done due to an unexpected life curveball. We're fine, and it's not Covid-19-related, but it has thrown a wrench into my already slow return to writing. If you're not writing, I'm not either! However, someday in the near future I will write. And then I'll have something more interesting to say in this space, I promise.
---
Malinda Lo is the critically acclaimed author of several young adult novels, including Ash, a lesbian retelling of Cinderella. Find out more at her website or follow her on twitter or instagram.